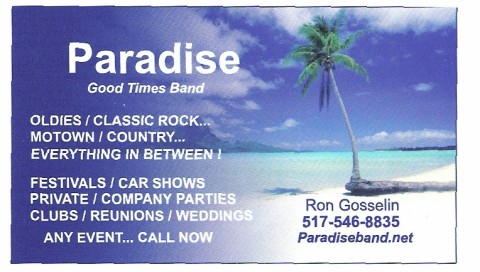 PARADISE TROPICAL ROCK NIGHT
Your group was GREAT!!! Thanks a bunch and will keep Paradise at the top of the list for next time!
Ron Long
Ron Long | First National Bank | President/CEO
Tired of the same old same old? Try this out when it's cold and thoughts turn to the beach.

Your "Trop Rock" theme party includes Jimmy Buffett music mixed in with trop rock music from Alan Jackson (It's 5 O'Clock Somewhere!) Kenny Chesney (No Shoes, No Shirt, No Problem!) Zak Brown (Toes) and more.

Also included are the regular Paradise dance hits. Hawaiian shirts, palm trees, leis, and beach balls enhance the mood. We suggest that your guests and customers come dressed appropriately for a night at the beach. You could also combine this with dinner consisting of Cheeseburgers and Margaritas, with an admission charge for dinner and dancing. A WIN-WIN for everybody!!